Events
Edit Bucket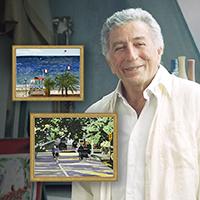 Thursday, May 4, 2017 through Sunday, June 18, 2017
WNYC is a media partner of The Paley Center for Media, featuring an exhibition of original artwork by Tony Bennett, paired with a collection of Tony's TV performances, open to the public now through June 18th. Details at paleycenter.org.
Edit Bucket

Wednesday, May 3, 2017 through Monday, May 29, 2017
WNYC is a media partner of African Film Festival, presenting over 50 films from 25 countries throughout the world, including the U.S. premiere of award-winning and internationally-acclaimed Vaya on Opening Night and the Ethiopian immigrant drama, Ewir Amora Kelabi on Centerpiece Night at the Film Socity of Lincoln Center. The NYAFF continues throughout May at Lehman College (May 10), Maysles Cinema (May 19 - 21) and the Brooklyn Academy of Music's BAMcinématek (May 26 - 29). 

Wednesday, August 23, 2017 through Friday, August 25, 2017
WNYC is a media partner of Podcast Movement 2017, welcoming over 2,000 current and aspiring podcasters from around the world to Anaheim, California this summer. New podcasters have the opportunity to learn the basics, while veterans have the opportunity to refine their skills.

Friday, June 2, 2017 through Sunday, June 4, 2017
WNYC is a media partner of Governors Ball Music Festival, a music and arts festival inspired by the eclectic spirit of New York City. Featuring performances by Chance The Rapper, Phoenix, Lorde and more at Randall's Island Park June 2nd - 4th. 

Thursday, June 8, 2017 through Friday, June 9, 2017
7:30 PM
WNYC is a media partner of Pop-Up Magazine, a live magazine created for a stage, screen, and live audience. They work with Oscar-winning filmmakers, New York Times bestselling authors, and radio and podcast voices. Pop-Up Magazine will present a night of multimedia stories at The Town Hall on June 8th and 9th.

Wednesday, June 7, 2017 through Sunday, June 11, 2017
WNYC is a media partner of Northside Festival, exploring music, innovation, and content. This year's Festival features performances by Performances by Dirty Projectors, Miguel, and Kamasi Washington; speakers from WNYC Studios, SNL, Fortune, VICE, the New York Times and more. 
Saturday, August 26, 2017 through Sunday, August 27, 2017
WNYC is a media sponsor of Afropunk Festival, promising an eclectic line-up and audience as diverse as the acts they come to see, including Willow Smith, Macy Gray, Gary Clark Jr. and more.
Thursday, February 16, 2017 through Thursday, June 1, 2017
WNYC is a media partner of Strand Bookstore, New York City's home of 18 Miles of new, used, and rare books since 1927.  Info about Strand's monthly events is available on the Strand Books Events Calendar. 

Monday, January 4, 2016 through Saturday, September 30, 2017
WNYC is a media partner of The Moth, a not-for-profit organization dedicated to the art and craft of storytelling.

Friday, January 20, 2017 through Thursday, June 1, 2017
WNYC is a media partner of the Irish Arts Center. Founded in 1972, Irish Arts Center is a New York-based arts and cultural center dedicated to projecting a dynamic image of Ireland and Irish America for the 21st century, building community with audiences of all backgrounds, and preserving the stories and traditions of Irish culture for generations to come. Irish Arts Center serves as a dynamic platform for emerging and established artists and cultural creators to reach a New York, national, and global audience, and as a gateway for other institutions to access first-rate Irish and Irish American culture.

Tuesday, December 13, 2016 through Monday, May 1, 2017
WNYC is a media partner of Brooklyn Flea, operating flea markets every weekend of the year that feature hundreds of top vendors of furniture, vintage clothing, collectibles and antiques, as well as a tightly curated selection of jewelry, art, and crafts by local artisans and designers, plus a wide variety of fresh food. 

Friday, December 30, 2016 through Sunday, October 1, 2017
WNYC is a media partner of Brooklyn Public Library's 2016-2017 Presents Season, serving Brooklyn's 2.5 million residents and offering thousands of public programs.
Monday, January 9, 2017 through Saturday, May 13, 2017
WNYC is a media partner of Kaufman Music Center's Ecstatic Music Festival, returning for its seventh year. Bringing together composers and performers from different musical genres for nine one-night-only, performances featuring world premieres, new arrangements and the exclusive opportunity to hear artists discuss their work. Starting Jan 9 and running through May 13, 2017 the festival will feature collaborations from more than 80 artists.

Friday, December 9, 2016 through Friday, June 30, 2017
WNYC is a media partner of the Stella Adler Studio of Acting, dedicated to creating an environment that nurtures theatre artists and audiences who value humanity, their own and others, as their first priority while providing art and education to the greater community.