'A Number Of' U.S. Sailors Found Dead After Navy Destroyer's Collision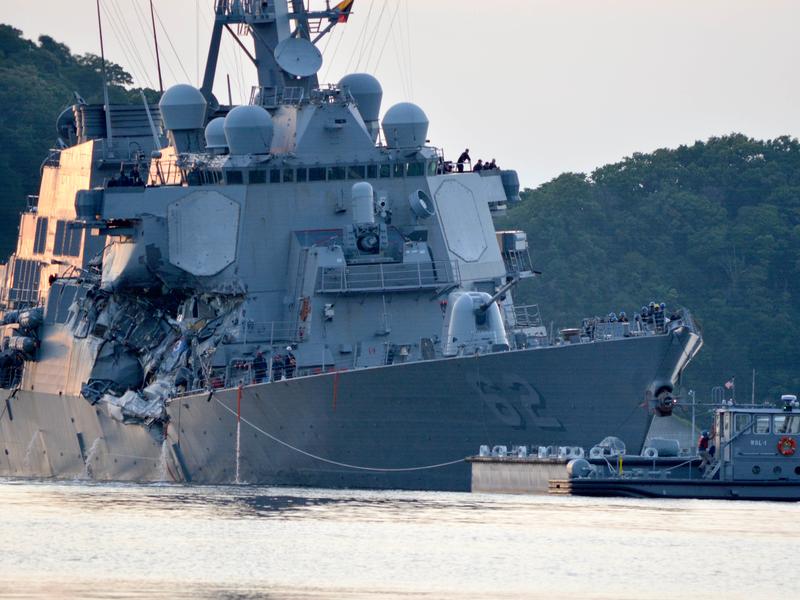 Updated at 10:35 p.m. ET Saturday
The bodies of "a number" of sailors who were missing following the collision between the USS Fitzgerald and a larger merchant vessel have been found aboard the damaged destroyer, the U.S. Navy says.
Seven sailors had been unaccounted for since Saturday's crash off Japan's coast.
"They are currently being transferred to Naval Hospital Yokosuka where they will be identified," the Navy says in a statement released on Sunday morning, local time.
The Navy, however, has not yet clarified how many of those found bodies account for the seven previously deemed missing.
The search and rescue teams were able to locate the missing sailors once they accessed the flooded bunk spaces that had been damaged in the crash.
Our original post continues:
The USS Fitzgerald has reached port in Yokosuka, Japan, after the U.S. Navy destroyer collided with a large Philippine-flagged container ship. Seven sailors are unaccounted for and three more have been evacuated for their injuries after the collision, which occurred around 2:30 a.m. local time off the coast of Japan.
The Pentagon confirms search efforts are underway for the Fitzgerald's seven missing crew members, with help from the Japanese coast guard.
Among the three injured sailors is the destroyer's commanding officer, Cmdr. Bryce Benson, "who was transferred to U.S. Naval Hospital Yokosuka and is reportedly in stable condition," the 7th Fleet says in a statement.
The Fitzgerald — which is significantly smaller than the other vessel involved in the collision, the container ship ACX Crystal — "suffered damage on her starboard side above and below the waterline" that "resulted in some flooding," the Navy says.
Aerial footage shot by Japanese broadcaster NHK appeared to depict severe damage to the destroyer.
But by early Saturday afternoon local time, the 7th Fleet announced that the flooding "has been stabilized" and sailors from the USS Dewey are "assisting in damage control efforts."
The Navy statement adds: "USS Dewey (DDG 105) got underway this morning as well as several U.S. Navy aircraft, and will join Japanese Coast Guard and Japan Maritime Self-Defense Force helicopters, ships and aircraft to render whatever assistance may be required."
"Right now we are focused on two things: the safety of the ship and the well-being of the Sailors," Adm. Scott Swift, commander of the U.S. Pacific Fleet, said in the statement. "We thank our Japanese partners for their assistance."
The Fitzgerald, a guided missile destroyer, recently took part in a training exercise with the Japanese Maritime Self-Defense Force, along with the aircraft carriers USS Carl Vinson and USS Ronald Reagan.
Copyright 2017 NPR. To see more, visit http://www.npr.org/.